Teaching a child is hard. Even if a child is neurotypical, there are still many challenges parents will face every single day. When your child has a learning disability, it's even more difficult, and learning disabilities are more common than you might think. As of 2019, 6.7 million students from ages 3-21 in US public schools were served under the Individuals with Disabilities Education Act. While the act covers many types of disabilities, 33 percent of those students are specifically served for learning disabilities. And these numbers only account for those who qualify for service and are enrolled in public school.
Thankfully, there are options for helping you and your child. One of the most common and most effective ways to help children with learning disabilities is with technology. Whether it's word processors like Microsoft Word or a simple tape recorder, these methods have been a huge aid to so many kids. With the advent of smartphones and apps, there are more ways than ever to use technology to help your child better learn and process information. With how expensive some of these apps can be and with how many there are, it can be difficult figuring out which one is best. That's why I've compiled this list of 20 apps that can be useful for kids and parents of kids with dyslexia and other learning disabilities. If you give some of these a try, I hope they prove useful. Be sure to bookmark this page so you can read it later too!
Apps to Help Your Child Develop a Love of Reading and Writing
1. Reading Machine: Decoding What Your Child Is Reading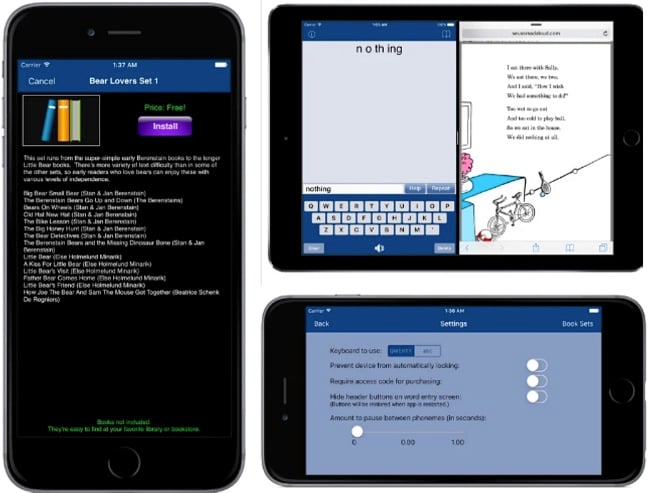 Learning to read can be difficult for kids, especially if they have dyslexia or another learning disability. The worst part is that books alone may not give your child the support they need. Books can use unusual sentence structures, might not define complex words, among other challenges. Fortunately, Reading Machine can help with these issues. Reading Machine helps struggling young readers make sense of what they're reading with text-to-speech, phonics support, and an excellent dictionary of common English words. The app includes over 125 books for beginning readers. It also provides you with recommended reading lists based on your child's interests and skill level. You can pick up Reading Machine for free on the Apple App Store.
2. Voice Dream Reader: Giving Your Child a Reading Companion for Life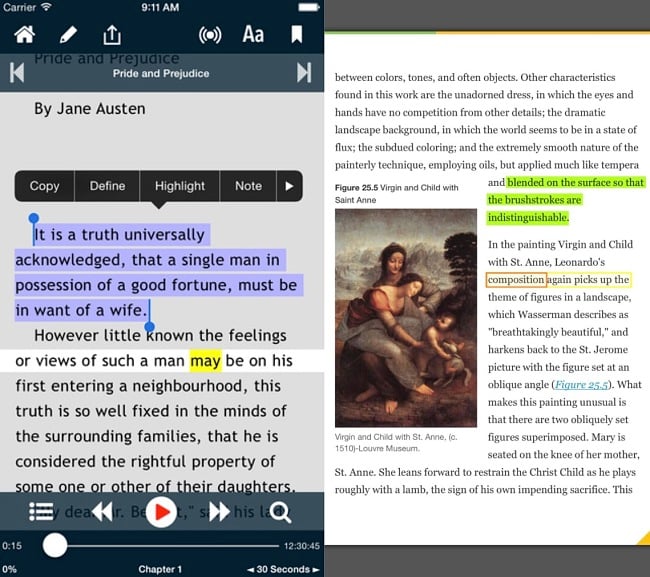 Text-to-speech is one of the most effective ways to aid children with dyslexia who are learning to read. Hearing the words spoken as they read helps them better understand their book, and it can keep them engaged even when traditional reading can get a little dull. There are dozens of text-to-speech apps on the market, but Voice Dream Reader is one of the best. Its suite of features is excellent and includes a scanner for reading printed work and alternate Reading Styles. In particular, the Finger Reading style is great for beginning readers, as it lets them control the reading by running a finger under each word. There is also Spoken Word, which allows your child to listen to books and articles as they read, and an auto-scrolling, full-screen mode that helps eliminate any distractions they might encounter on their device of choice.
That said, the app is a bit more complex than some of the others on this list. It was made for all ages which means it will be up to you to set it up for them and make sure it's working properly. The good side of this is that your child won't ever get too old for Voice Dream Reader. The app can be just as useful to them at age 5 as age 35. With a huge suite of features and content, Voice Dream Reader is an excellent app for children with dyslexia that can help them well into adulthood. You can download it on the Apple App Store today. Sadly, there is no free trial for this app.
3. Writing Wizard for Kids: Helping Your Child Improve Their Handwriting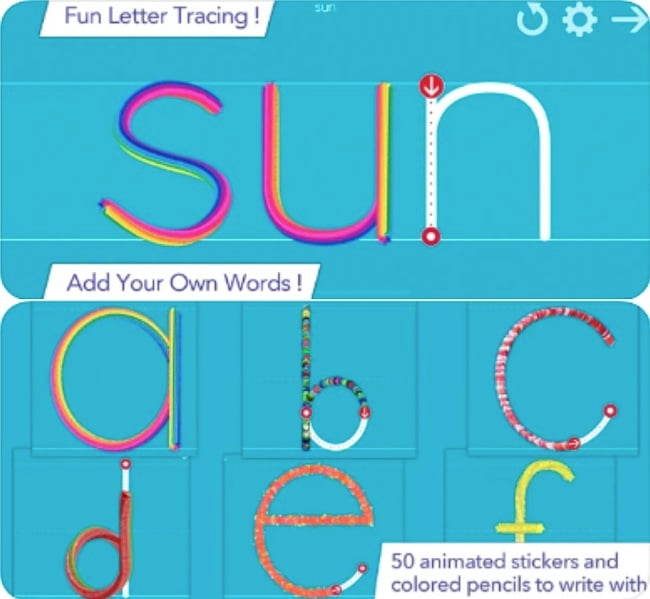 Learning how to handwrite can be a frustrating process for your child, especially when they're stuck tracing letters and numbers over and over again. Writing Wizard hopes to help by offering kids a fun, accessible way to learn how to write by hand. The app has a lot of features for beginning writers including 13 different fonts, worksheets, and interactive games to make the process more engaging. It also includes shapes and numbers for your child to learn as well. My personal favorite feature, however, is the ability to fully customize the letters to fit your child's specific needs. This can include changing their size or simplifying more complex letters. While the app is available on the Google Play Store and the Apple App Store, a free version is only available from the Google Play Store. It includes all shapes, 8 letters, 8 numbers, and 8 words.
4. Rainbow Sentences: Teaching Your Child the Basics of Sentences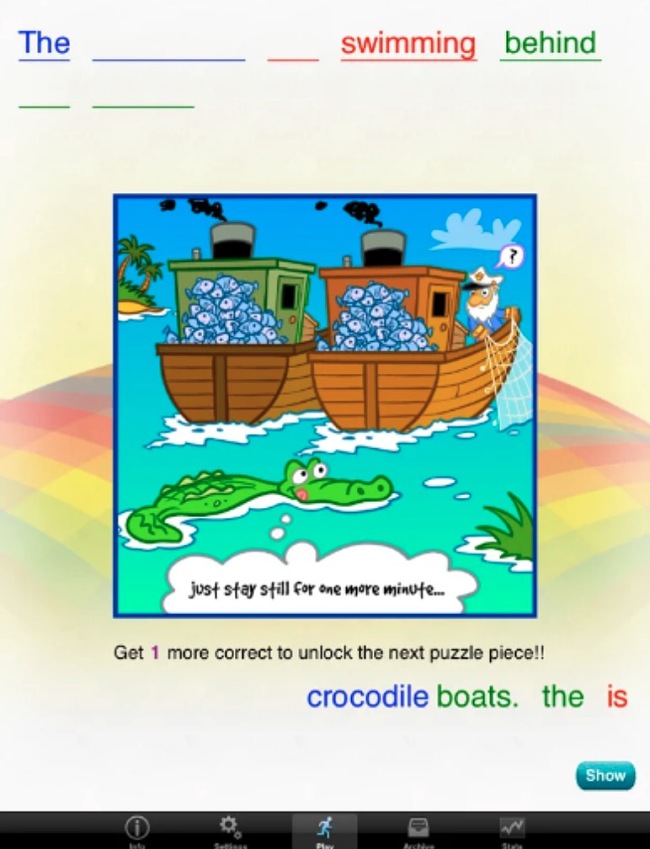 A major hurdle in teaching kids to read is sentence structure. English can be a bit of a mess to understand, especially for beginning readers. However, Rainbow Sentences is here to help. By using aids such as color-coded words, text-to-speech, and picture-based sentence lessons, the app helps your child learn how to construct English sentences in an easy-to-understand way. It even lets kids record themselves reciting the sentences and play the recordings back to enhance the process. If your child is struggling with putting together complete sentences, I recommend Rainbow Sentences. You can find Rainbow Sentences on the Apple App Store. While there is no free trial, Rainbow Sentences isn't as pricey as some of the others on this list.
5. Ghotit Real Writer: Helping Your Child Write Better Than Ever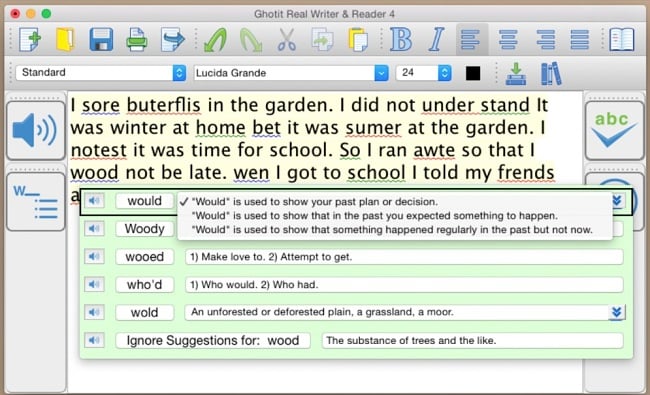 Targeted to older users than other apps on this list, Ghotit Real Writer is a text editor for users with dyslexia and dysgraphia. Because of its complexity, I don't recommend it for beginning writers. That said, it packs a number of useful features, such as text correction and word prediction, into an easy-to-use interface. More advanced children and adults can get a lot out of these features, especially the word prediction feature. The app also includes dictionaries for US, UK, Canadian, Australian, New Zealand, and South African varieties of English. Unfortunately, the app loses quite a bit of functionality without an Internet connection. If you want to try Ghotit Real Writer, you can download it on the Apple App Store for iPads, from its website for Macs, and it's also available for Windows. While the price is steep, the Windows version offers a free trial.
Apps for Keeping Your Child Engaged With Math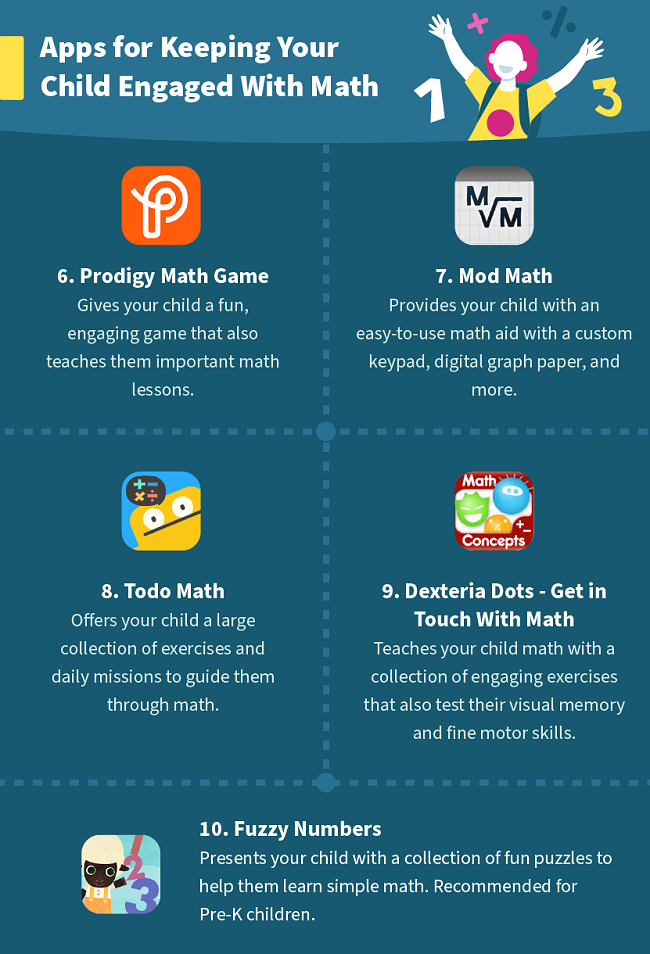 6. Prodigy Math Game: Making Math More Fun Than Ever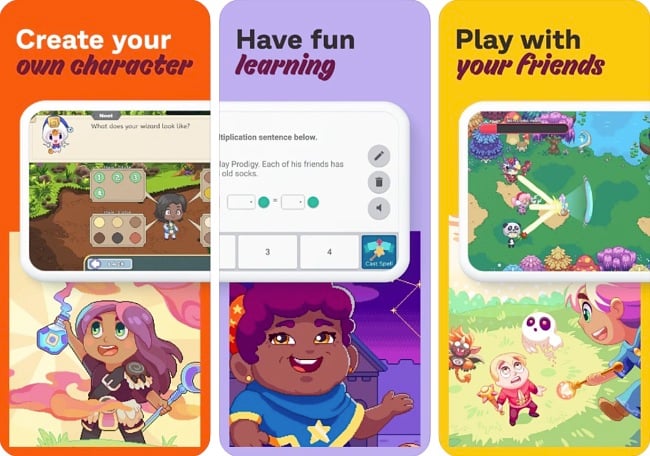 It is a rare child who enjoys math. Addition and subtraction can be a drag, even if your child understands it just fine. With Prodigy Math Game, your child gets to learn the basics of math in a colorful, engaging video game. Making it a game can increase your child's motivation and give them a better feeling of progression than they might get with normal teaching. For US users, the math questions in Prodigy Math Game stay in line with classroom lessons and are aligned with Common Core standards as well as Texas' own TEKS standards. You can also monitor your child's progress in the game to make sure they're staying engaged both with the app and actually learning math. If you're interested, Math Prodigy Game is available for free on both the Google Play Store and Apple App Store.
7. Mod Math: Giving Your Child an Excellent Math Companion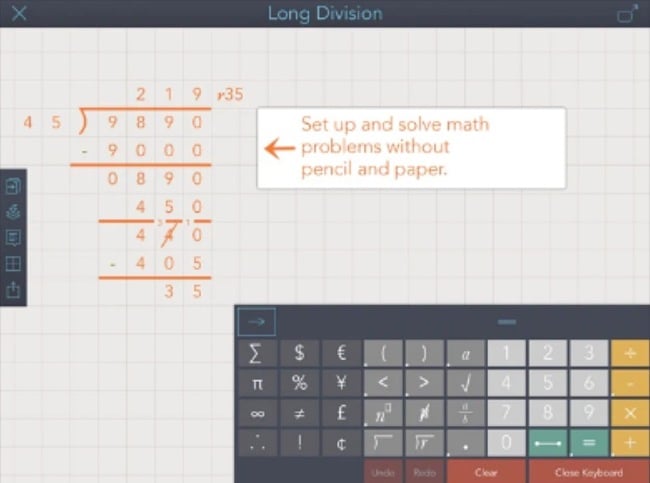 Much like sentence structure, math problems and notation can be frustrating for beginners. If your child is struggling with this part of math, Mod Math is here to help. From simple addition and subtraction to algebra, the app lets your child plot out their equations with an easy-to-use custom keypad and digital graph paper. Your child can also share their work directly with their teachers from the app if their teacher has an account. You can even import equations from other documents for easy access. While Mod Math is free on the Apple App Store, it does contain microtransactions. If, for example, you want to use percentages, you'll need to buy their Mod Math Pro service or buy the percentage symbol by itself. The cost is low, but it's still disappointing to have to pay for such basic features.
8. Todo Math: Teaching Your Child Math With Simple, Fun Exercises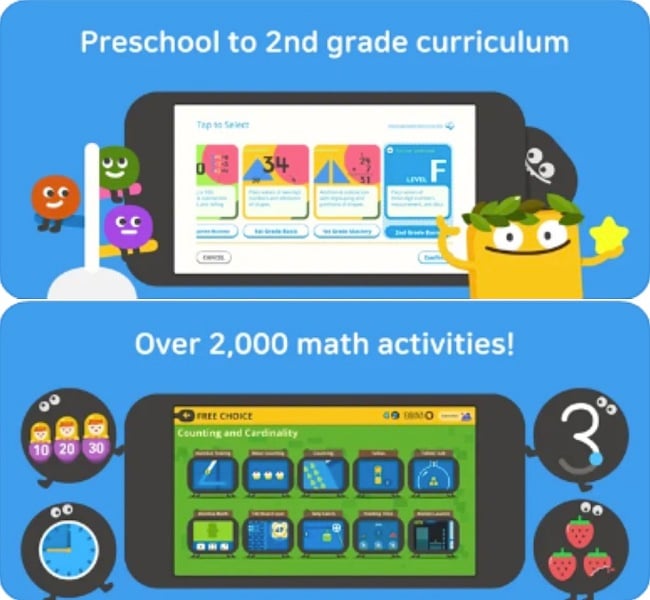 Part of the issue with teaching math is that the equations and problems can feel a little dry, especially for kids. This lowers engagement and, by extension, hurts their ability to remember the lessons. Apps like Todo Math are designed to help with this. Based on Common Core standards from the US, Todo Math provides your child with thousands of colorful, interactive exercises to help them better understand math. These exercises cover a variety of concepts from counting to telling time on a clock and are appropriate for kids from Pre-K to the 2nd Grade. The sheer amount of content is Todo Math's greatest strength with daily missions and other challenges. These make sure your child stays engaged with learning for as long as possible. The app's pay structure is its greatest weakness. The app places a limit on how many activities free users can do per day. The price for a subscription is also steep and only available in yearly or bi-yearly payments. Even with these drawbacks, the content in Todo Math is very good, and you can find it at no cost on both the Google Play Store and the Apple App Store.
Dexteria's entire family of apps is excellent, especially for children with autism. However, I'm highlighting their Get in Touch With Math app as an excellent learning aid for any child with disabilities. The exercises are simple, engaging, and great for teaching the basics of math. These exercises also test your child's visual memory and fine motor skills. This is great for giving your child a sense of play even when just dragging their finger along a touchscreen. While you can't try it for free, Dexteria Dots – Get in Touch With Math is available on the Apple App Store for a fairly low price.
10. Fuzzy Numbers: Helping Your Child Learn Early Math Skills With Creative Puzzles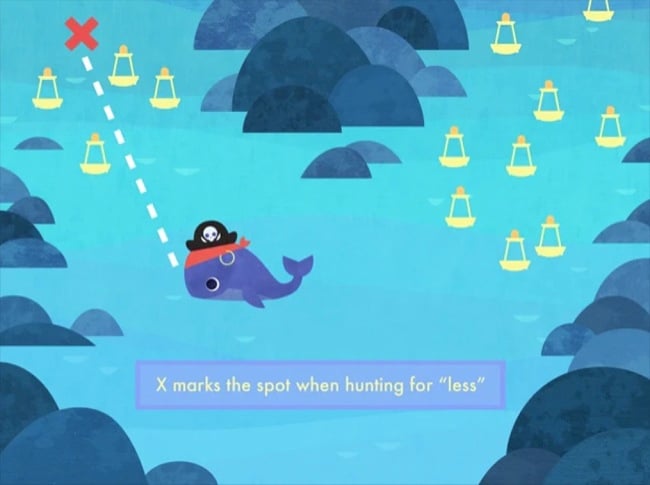 Math can be particularly difficult for younger children, but an app like Fuzzy Numbers can help make it easier. The app is designed for Pre-K children and comes packed with a number of fun and educational puzzles to teach your child early math skills. The interface and look of the app are simple and colorful which can be a big help in keeping your child interested in the app. Its biggest issue is its length. If your child is particularly motivated, they can finish all 6 available puzzles in under an hour, according to some users. Although it's a little short, the available content is well-done and great for teaching younger kids. You can download Fuzzy Numbers from the Google Play Store and the Apple App Store, but there is no free trial.
Apps to Assist Your Child With Staying Organized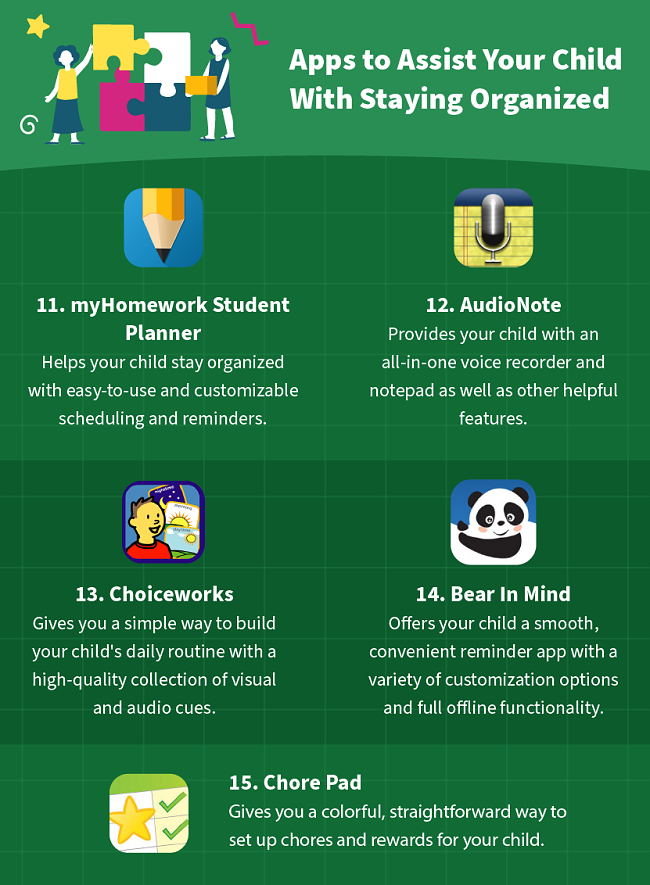 11. myHomework Student Planner: Making Sure Your Child Stays On-Track With Their Education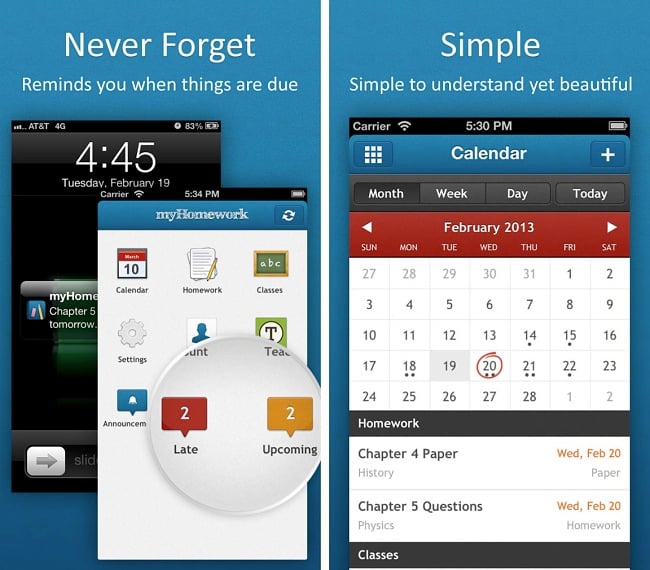 Everyone has trouble keeping track of their schedule sometimes. This is especially true when you or your child are in school. All of the assignments and tests can be overwhelming, especially as they move to higher levels of education. That's why myHomework offers a clean, easy-to-use way for students to remember all those important dates. The app offers a lot of scheduling options, including the ability to outline your child's schedule based on their class periods. While you can download myHomework for free on the Apple App Store, the free version includes ads that can be distracting for some. You can buy a yearly subscription to myHomework to remove the ads. The subscription also unlocks more features such as the ability to sync your schedule up with other devices.
12. AudioNote: Giving Your Child a Notepad and a Voice Recorder All in One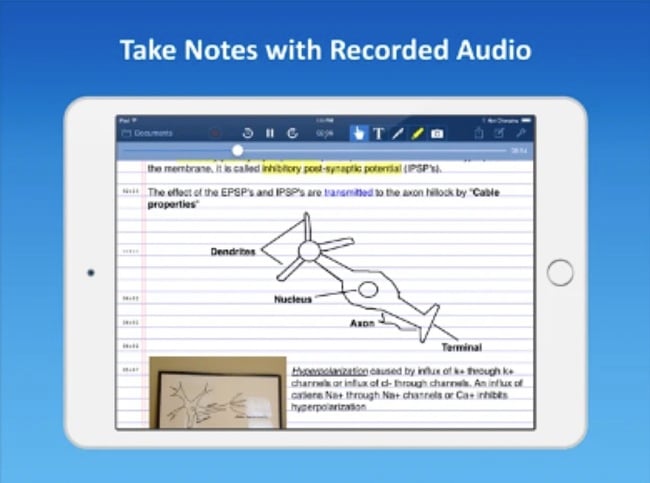 Many students use voice recorders in class to help them take notes, but they often have trouble remembering when they wrote down a certain note and why. With AudioNote, this problem disappears. Because it's both a notepad and voice recorder, AudioNote can playback your note-taking alongside the recorded audio to provide the context of your notes. Each note your child takes comes with a link that can take them to the exact place in the recording where they took that note. If your child doesn't take any notes at the time of recording, they can also take notes over the audio later. With so many useful features and a simple interface, AudioNote is one of the best voice recording apps out there. If you're interested, you can pick it up on the Google Play Store and the Apple App Store for a one-time payment. The Google Play version is cheaper than the Apple version, but I couldn't figure out why.
13. Choiceworks: Letting You Build a Daily Routine for Your Child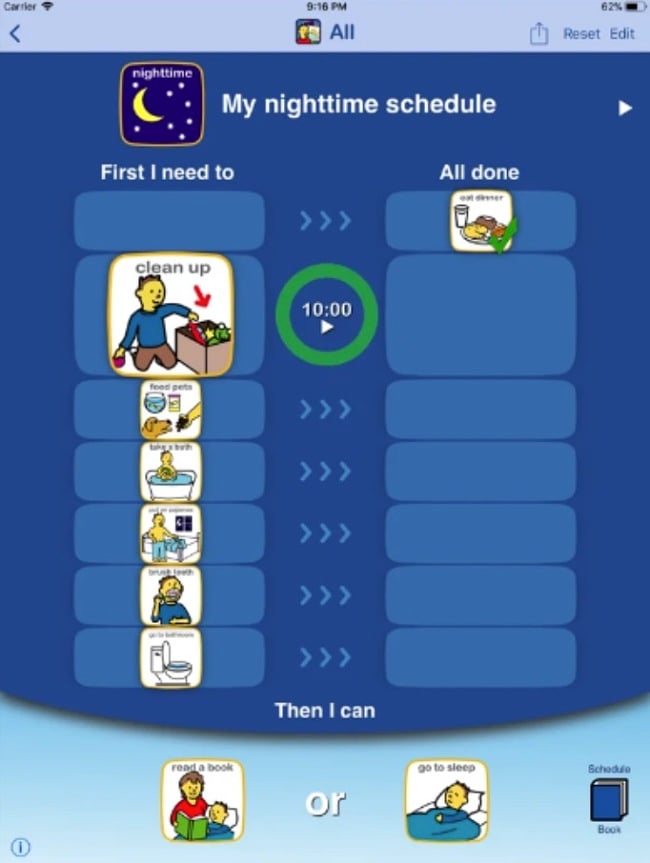 Teaching your child to maintain a daily routine can be one of the most valuable things you can do for them. It can help them stay consistent later in life with school and builds independence. It's also one of the more difficult lessons to teach, especially when you have your own schedule to keep up with. Choiceworks can help you and your child build this essential skill together.
With Choiceworks, you can use a collection of audio and visual cues to craft your child's routine, as well as rewards for when they finish. For example, if your child wants to read a book before bedtime, you can set up Choiceworks to remind them that they need to brush their teeth first. The app is also completely customizable. You can record yourself telling your child what and how to do the tasks you've given them or take photos to use as visual cues instead of the default images. In addition to schedules, the app comes with three more imageboards: Waiting, Feelings, and Feelings Scale. These can help your child build patience and emotional regulation, even when you're not at home.
You can download Choiceworks from the Apple App Store, but you can't try it for free. There is also a companion app, called Choiceworks Calendar for helping your child keep track of dates and schedules as well. This app is also not free.
14. Bear In Mind: Making It Easier Than Ever to Keep Your Child On-Task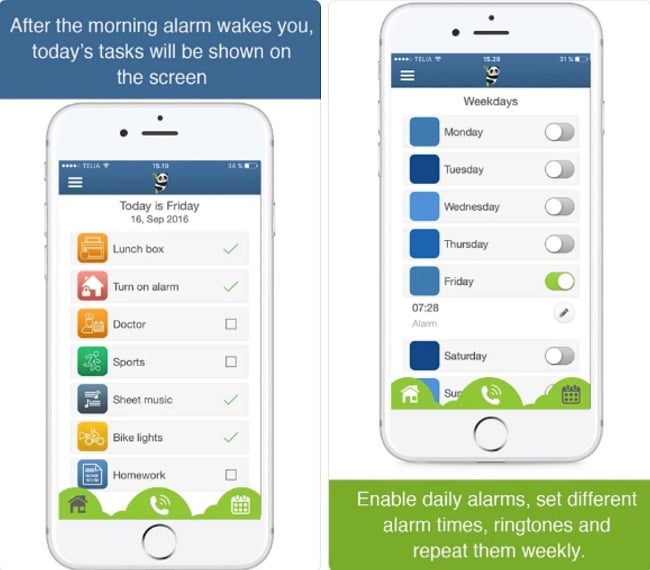 Sometimes, your child doesn't need anything too complex in a scheduling app. They just need somewhere to write their to-do lists and set up reminders. If your child is looking for a simple reminder app, Bear In Mind is one of the best out there. The app's interface is easy to use and highly customizable, with the ability to import images and pick from 35 different sounds and music for alarms. Best of all, Bear In Mind is fully functional offline, making it useful even when your child doesn't have a signal. You can try Bear In Mind on the Apple App Store, but there is no free trial.
15. Chore Pad: Keeping Your Child More Engaged With Their Chores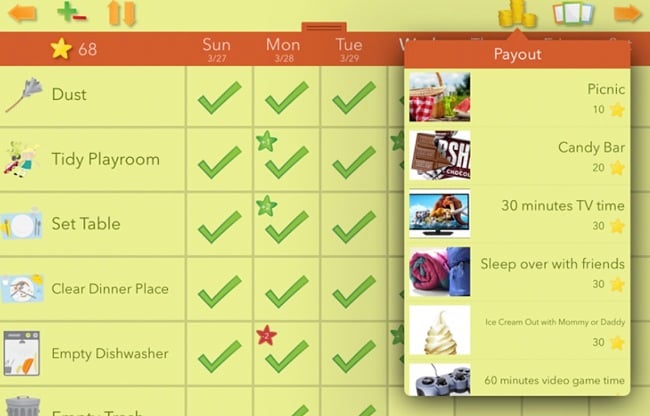 Few people enjoy doing chores, and making sure your kids stay on top of theirs can be frustrating. However, Chore Pad's colorful interface and rewards system are great for making chores more fun than ever. When your kids complete chores, they get stars which can be exchanged for rewards you set up for them. This can turn chores into a game, which can keep your child more engaged. If you use multiple Apple devices, you can also use Dropbox to sync Chore Pad across all of them. You can grab Chore Pad on the Apple App Store. There's also a free lite version that limits the number of users to 1 and the number of assigned chores to 4.
Apps That Can Enhance Your Child's Communication Skills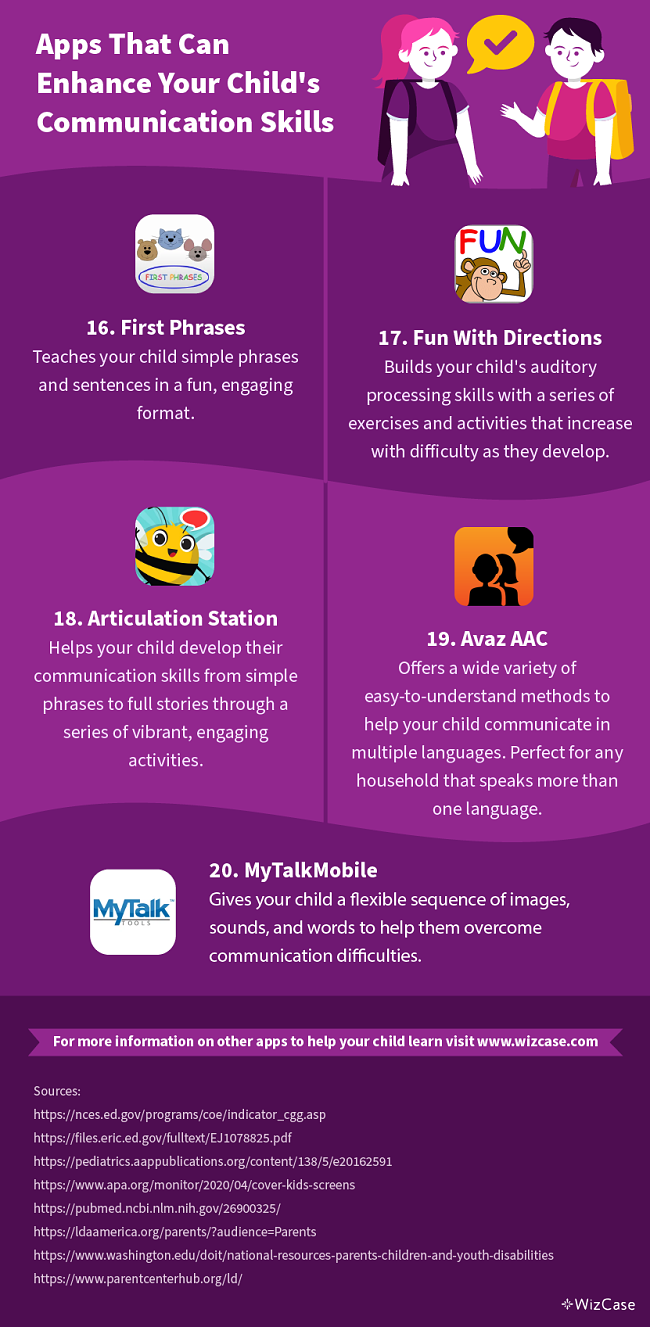 16. First Phrases: Building Your Child's Communication Confidence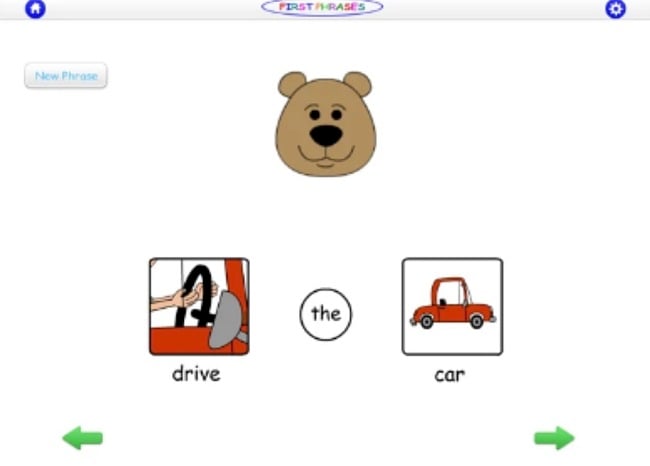 When your child learns to speak for the first time, part of the difficulty is stringing words into phrases and sentences. First Phrases come packed with a huge collection of simple phrases and sentences for your child to learn. When using the app, an animal appears on-screen along with an illustrated phrase to say, such as "Eat the cookie." if your child repeats that phrase, the animal will do what they said. It's a simple and fun way to build your child's confidence in communication. That said, the app will take up a large amount of space on your device. So make sure you have room for it before giving it a try. First Phrases is only available on the Apple App Store, but you can download an iPhone version and an iPad version. Both versions cost the same.
17. Fun With Directions: Giving Your Child a Teacher That Grows With Them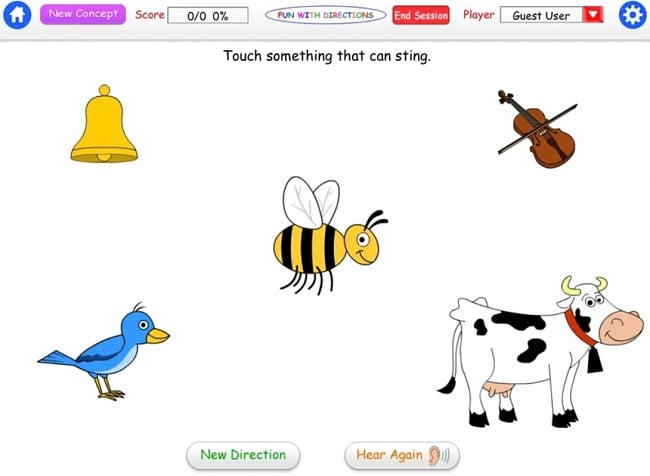 Auditory processing skills can be difficult to learn for some children. Thanks to Fun With Directions, your child has a game to help them better understand these valuable skills. The app starts with simple directions like "pet the dog" and gets more complex as your child progresses. This slowly helps your child build their ability to follow directions and process what they're seeing and hearing. The app's lessons will grow with your child. That said, the app is designed for younger children, and the directions might not be challenging enough after a certain point. You can only find Fun With Directions on the Apple App Store. That said, the app has both an iPhone version and an iPad version. If you're not sure about spending money on the app, you can try the Lite version for iPhone for a lower price.
18. Articulation Station: Educating Your Child at Multiple Levels of Communication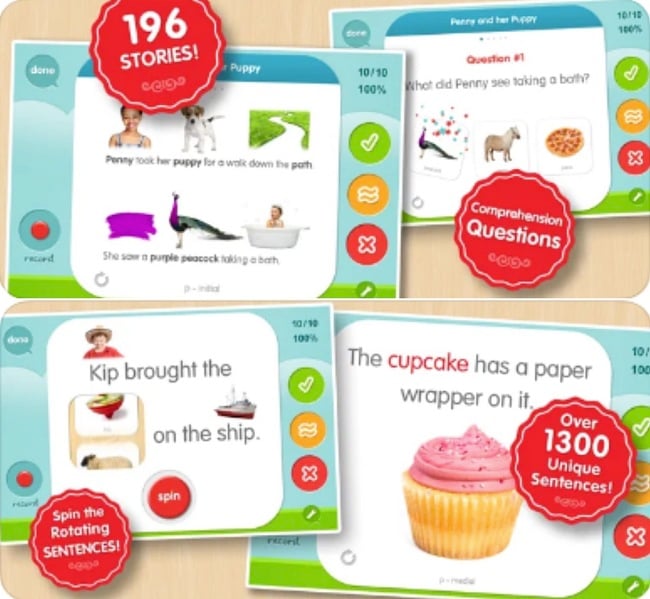 There are plenty of apps that can help your child learn at the word level or even the full sentence level. However, Articulation Station is one of the few apps designed to teach your child how to better communicate on not just the word or sentence level but the full story level. There's a lot to love about it. This means the app can help your child grow from short, simple sentences to telling their own short stories. The app's activities are vibrant, colorful, and engage your child on the auditory and visual levels. These activities include flashcards, matching games, and even full stories with comprehension questions.
That said, the app's pricing model can be a deterrent for some users. While you can download Articulation Station at no cost from the Apple App Store, the app will ask you to pay for some specific content. This includes certain sounds your child might struggle with such as "ch" or "th" sounds. You can either buy each sound program individually or pay for its Pro version to unlock all content. If you purchase a few sound programs before paying for Pro, the app does offer you a discount equal to how much you paid for those programs.
19. Avaz AAC: Offering Your Child Support in As Many Languages As Possible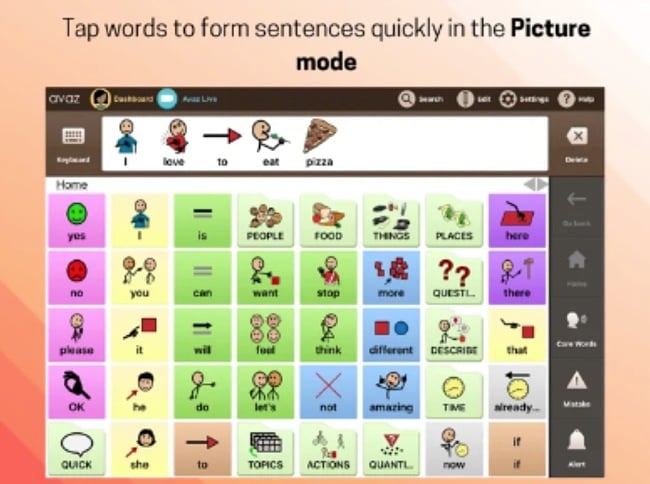 Most of the apps on this list are primarily targeted toward English speakers. This means they aren't quite as useful on an international level or for multilingual households. If you're looking for a speech app with more language variety, Avaz AAC is a great place to start. Developed in India, the app features 6 Indian regional languages including Hindi, Tamil, and Telugu. On top of that, the app also offers 4 more languages: American English, Australian English, French, and Sinhala. And those are just the languages on this specific app. Avaz also offers regional versions of this app for countries like Switzerland, Sri Lanka, and Vietnam.
On top of this language support, Avaz AAC is a top-quality speech app. It comes equipped with an excellent dictionary, as well as a large number of voice clips. Your child can also use the Symbolstix image library to help communicate even better. It's highly customizable and usable for all ages. There's also an alert button to let your child tell you when they need your full attention and a mistake button for when they need to tell you they made a mistake. Additionally, the app features a training module for new users and their caregivers to make the process as easy as possible. You can try Avaz AAC for free on the Google Play Store and the Apple App Store. The app is only fully functional for 14 days, however. After the 14-day free trial is up, you won't be able to access the symbols or voice clips without a subscription to Avaz. The subscription comes in monthly and yearly payment models, or as a one-time payment for lifetime access.
20. MyTalkMobile: Giving Your Child More Communication Options Than Ever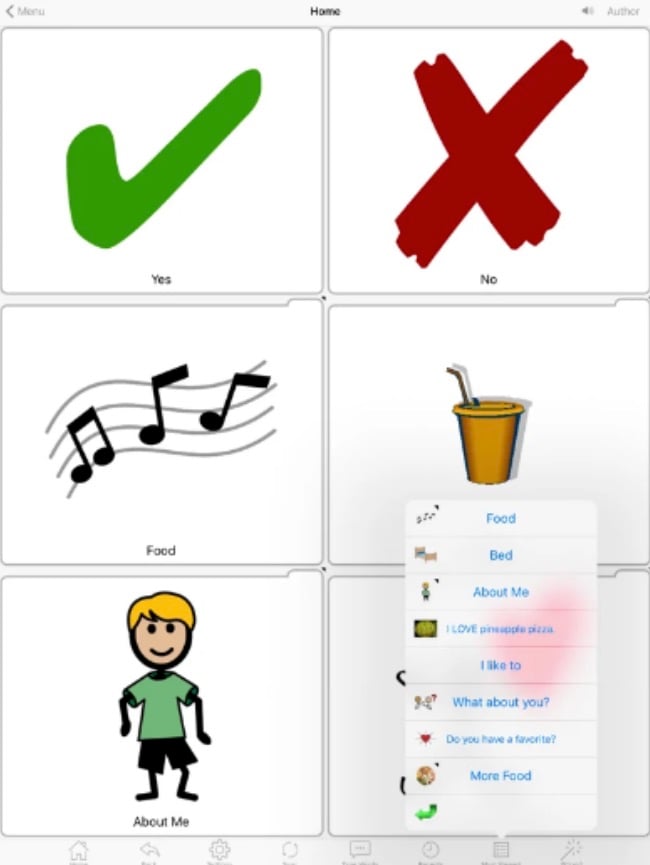 There are many speech apps on the market, and finding the right one for your child can be a difficult process. One of the most important things a good speech app needs is usability. For that, MyTalkMobile is one of the best out there. The app allows your child to communicate in several ways including video, photos, web images, sound, text, and text-to-speech. This flexibility in methods will help your child communicate better than ever. Its mobile authoring mode lets your child create personalized content; so they can communicate exactly what they mean. However, this mode is only available for free for a 14-day trial. After that, you'll need to pay for its Pro Version, which has a steep cost. You can download MyTalkMobile for free on the Google Play Store and the Apple App Store.
How to Choose the Right App for Your Child
All these apps are great, but they won't be any help if you don't know which one is right for your child. Fortunately, I found a paper written by experts in the field of special education that has excellent criteria for picking the right app for your child. I especially want to highlight their suggestion to make sure your child is involved in choosing the app. Ultimately, these apps are for your child, and if they aren't interested in the app, it won't help no matter how effective it might be for other children. So, show them screenshots from the app, explain what it's supposed to do if they're old enough to understand, and see which apps catch their eye and which they skip over.
Another thing to look out for is making sure your child stays moving throughout the day. While these apps can be useful, spending too much time with them or with any kind of screen will often hurt more than help your child, especially if they are earlier in their development. Use movement and play in combination with these apps to keep them engaged in the learning process.
Finally, make sure to turn off your child's screens at least one hour before bedtime. The blue light from these screens can disrupt sleep patterns and prevent your child from getting a good night's sleep. Good, restful sleep can be one of the most important factors in keeping your child healthy, happy, and engaged in their education. If possible, it might even be a good idea to turn off your own screen around the same time to set a good example for your child.
Help Your Child with Dyslexia and Other Learning Disabilities Learn and Grow With These Apps
There are so many unique challenges to parenting a child with learning disabilities, but there are also so many resources to turn to that can help you do the best job possible. These apps are just some of the ways you can help your child. There are websites, databases, and other resources where you can learn more about your child's disability and learn ways to be an even better parent for your child. While I was never diagnosed with a learning disability, I was diagnosed with ADHD, which can also affect learning. I can't imagine how big of a help it would have been if my parents had access to resources like these when I was a child. Many of these apps offer free trials or free versions to help you see if they're right for you, and I urge you to give some of them a chance.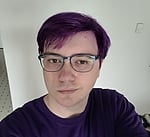 WRITTEN BY
Zephin Livingston
Zephin Livingston is a freelance writer with years of experience in multiple fields including cybersecurity, tech, cultural criticism, and media literacy.